DENISE LASALLE THE SOUL BLUES QUEEN,She's Doin It Again
The Queen and friends has raised thousands of dollars for
Mississippi Delta Tornado Victims ,Now Ms. Lasalle is turning her attention and energy to raise funds fund to help victims of the recent floods in west Tennessee. Many Big NamesHave signed on but there is still room for more if you would like to help contact Denise Lasalle at deniselasalle@msn.net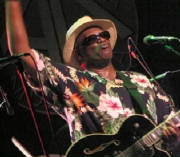 TAJ MAHAL PERFORMANCE REVIEW
By Christopher Blagg

Blues music today is saturated with tired cliches and overworn "my baby left me" stereotypes devoid of any real feeling or spirit. Thankfully there's Taj Mahal to point the way home. As the kickoff to the Lowell Summer Music Series at Boarding House Park, the 68-year-old legend gave a rousing reminder of what great blues music is.
Strutting onto the stage with his usual Hawaiian shirt and fedora, Mahal and his trio (Bill Rich on bass, Kester Smith on drums) injected vitality and swagger into an exhausted music form. Put simply, Taj Mahal makes blues fun again.
That's not to say Mahal managed to avoid the standard tropes of blues music. There were plenty of moans about "big-legged mamas" and loaded sexual innuendo, but by the sheer magnitude of his personality - and his booming, force-of-nature baritone - Mahal was able to transcend the cliches and give them new life.
Continue Readig Here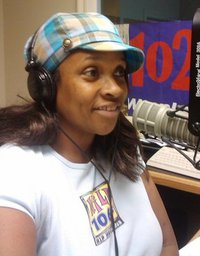 BOOGIE REPORT FEATURED MEMBER
Denise"The Diva" Brooks
Clear Channel Radio's Denise "The Diva" Brooks, director of urban programming for WJKX/WZLD Laurel/Hattiesburg, was recently awarded The Lamp of Excellence Award for providing exemplary service to area non-profits and organizations. Locally, Brooks is involved with many organizations, including the American Heart Association and the Diabetes Foundation. Additionally, she regularly donates time to community service projects benefitting breast cancer awareness.

VISIT Denise
ON THE HIP HOP TIP
by Yung Cooley
The IDJ Trade Association proudly announces the IDJ Awards & IDJ Trade Expo, Aug 8-11, 2010 in Atlanta, GA at the Renaissance Atlanta Downtown Hotel & Fox Theater.

The IDJ Trade Association honors many of today's hit making & ground-breaking DJs around the world.

The IDJ Awards and IDJ Trade Expo for 2010 marks the establishment of an annual reunion for all DJs by inviting them to join together, no matter what crew/DJ affiliations they are with, We are here to network while we are honoring the DJs. There are also several events that will inform you as well as entertain you: The Celebrity Basketball Game, The Women of Empowerment movement, Trade Show detailing new industry technology to name a few, and The IDJ Awards. There will also be various listening sessions to break new music and panels for questions and answers.

The International Disc Jockey Trade Association boasts members whose contributions have been the highlights of the music industry from 1973 to 2010.

The IDJ Trade Expo and DJ Awards for all industry professionals, including DJs, producers, DJ software and equipment MAKERS, jewelry DESIGNERS, telecommunications, artists, fashion and clothing designers, labels, industry entrepreneurs, who want to really network UNDER ONE ROOF!

Sponsorship and performance packages:

For more information regarding registration for The IDJ Awards and Trade Expo, contact Linda Thomas by emailing, linda@lnpmusicgroup.com or call 678-499-6938.

For press credentials please contact Edwina Warder by emailing edwina@ebiznessonline.com or call 888-508-9640.

Host Hotel/Reservations
Renaissance Atlanta Downtown Hotel
590 West Peachtree Street NW
Atlanta, Georgia 30308 USA
Reservations: 1-404-881-6000
http://www.marriott.com/hotels
NEWS FLASH:


FREE TRACK:

The label has provided HipHopDX with an exclusive download to "Dirt's The Boogie" by the late Ol' Dirty Bastard (O.D.B.) featuring Y.D.B. Boy Jones (Ol' Dirty's son).
GET IT HERE
KIM'S Corner
by Kim Culver
STILL LOCKED DOWN
In a trial fraught with legal malpractice and witness coercion, Mississippi Judge Marcus Gordon oversaw one of the most blatantly corrupt trials in history, culminating in the staggering over-sentencing of sisters Gladys and Jamie Scott to double-life each in an armed robbery where no one was murdered or harmed and the amount alleged to have been taken was a whopping $11.00.
READ ON HERE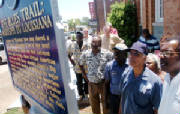 Ferriday Louisiana joins Mississippi Blues Trail
The Mississippi Blues trail now extends into Louisiana.
The 107th Mississippi Blues Trail marker was dedicated in Ferriday Saturday, unveiled by local blues musicians YZ Ealey, Hezekiah Early and Lil' Poochie.
The marker, which is located in front of the Delta Music Museum, commemorates the role the Ferriday nightclub Haney's Big House played in the delta blues scene. The plaque names Early and Ealey, both who played in the house band, as important musicians associated with the club.
After the unveiling, Ealey said he was honored to see his name listed on the plaque, and Early said he was glad to see local and personal history preserved.
Many blues legends, including B.B. King, Fats Domino and Big Joe Turner played at the club, which was owned and operated by Will Haney.

Blues Foundation Honors Four w/ 1st Generation Blues Grants

Congratulations to the first Generation Blues honorees – Brandon Bailey, Cale Hawkins, Will Jacobs, and Hunter Wolfe. Brandon, 21 from Memphis, TN, will be attending Blues Week at Augusta; Cale, 17 from Bemus Point, NY, and Hunter, 18 from Orange, VA, will be attending Blues Camp at Columbia College; and Will, 17 from Wilmette, IL will be attending Berklee College of Music-Guitar Sessions. The Blues Foundation is proud to award scholarships to each of these deserving individuals. For more information on Generation Blues, click here.